Joanna L. Casson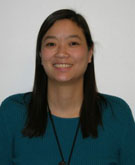 Phone: 505-665-6186
Email: casson@lanl.gov
Professional Career
2008 - present: Industrial Hygiene & Safety Professional, Los Alamos National Laboratory
2001 - 2008: Laser and Optics Technician, Los Alamos National Laboratory
1996 - 2001: Staff Research Assistant, Los Alamos National Laboratory
Education
2001: M.S. Electrical Engineering, University of New Mexico. Albuquerque, NM
1987: A.B. Physics, Bryn Mawr College, Bryn Mawr, PA
Current Research
Characterizing quantum dots using TEM, EDX and photoluminescence.
Previous Research
Used second-harmonic generation to characterize the nonlinear optical properties of organic thin films.
Characterized small, integrated lens/scanner devices and waveguides.
Used second-harmonic and sum-frequency generation techniques to study the thermodynamics of adsorbates on model surfaces and in porous media.
Did vibrational spectroscopy at surfaces and in porous media using a tunable mid-infrared laser beam generated by optical parametric generation (OPG).
Investigated the thermodynamics of soil samples that have undergone laser ablation.
Selected Publications
August 2010