Bogdan Diaconescu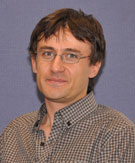 Phone: 505-665-1746
Email: cbdia@lanl.gov
www: davinci.unh.edu/~bogdan
Education
2007: Ph.D. in Physics, University of New Hampshire, US
1999: M.S. in Applied Nuclear Physics and Engineering, University of Bucharest, Romania
1998: B.Sc. in Physics, University of Bucharest, Romania
Professional Career
2010 - present: Postdoctoral Research Associate, Los Alamos National Laboratory, Physical Chemistry and Applied Spectroscopy Division , C-PCS, Los Alamos, New Mexico, US
2007 - 2010: Research Scientist, Department of Physics and Center for High-Rate Nano-manufacturing, University of New Hampshire, US
1999 - 2001: Research Assistant at the Solid States Quantum Electronics Laboratory, National Institute for Lasers, Plasma, and Radiation Physics, Bucharest, Romania
Current Research
Currently my research is focused on single semiconductor nanocrystal dot scanning tunneling spectroscopy and developing an ultra-high vacuum and low temperature scanning tunneling microscope with optical access for simultaneous electron tunneling and optical spectroscopy.
Previous Research
Solid state physics of dimensionally reduced systems, mainly focused on the geometric, electronic, dynamical, and optical properties of surfaces and thin films and instrumentation development. I have designed and built an ultrahigh vacuum - variable temperature - scanning tunneling microscope and I used it to study surface reconstructions, self-assembly processes on strained metallic interfaces, ultra-thin films growth, self-assembled organic monolayers, and apply them towards supramolecular patterning on nano-structured multi-functional surfaces. I have been also studying novel acoustic collective electronic excitations at surfaces with electron spectroscopy as well as with synchrotron radiation-based techniques.
Selected Awards
2010: Highlighted article in EPL on Acoustic surface plasmon on Cu(111)
2010: NSF-DMR-1006863 "Strained Ultrathin Interfaces for Controlled Molecular Self-Assembly", Co-PI while at UNH
2008: Research/Scholarship/Creativity Award from the University of New Hampshire
2007: The Morton M. Traum Surface Science Division Student Award for the best student paper based on work leading to a Ph.D. thesis, American Vacuum Society (AVS), 2005
2007: AVS Dorothy M. and Earl S. Hoffman Travel Grant
1993-1998: Study scholarship at the University of Bucharest
Selected Publications
K. Pohl, B. Diaconescu, G. Vercelli, et al., Acoustic surface plasmon on Cu(111), EPL 90, 57006 (2010).
G. Nenchev, B. Diaconescu, F. Hagelberg, K. Pohl, Self-Assembly of methanethiol on the reconstructed Au(111) surface, Phys. Rev. B 80, 081401 (2009).
B. Diaconescu, T. Yang, S. Berber et al., Molecular Self-Assembly of functionalized fullerenes on a metal surface, Phys. Rev. Lett 102, 056102 (2009).
B. Diaconescu, G. Nenchev, J. de la Figuera, K. Pohl, An ultra high vacuum fast-scanning and variable temperature scanning tunneling microscope for large scale imaging, Rev. Scient. Instrum. 78, 103701 (2007).
B. Diaconescu, K. Pohl, L. Vattuone, et al., Low-energy acoustic plasmons at metal surfaces, Nature 448, 57-59 (2007).
B. Diaconescu, G. Nenchev, J. Jones, K. Pohl, Self-organized nanotemplating on misfit dislocation networks investigated by scanning tunneling microscopy, Microsc. Res. Techniq. 70, 547-553 (2007).
August 2010