Alexey Koposov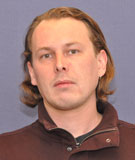 Phone: 505-665-4368
Email: akoposov@lanl.gov
Education
2002-2005 PhD., Organic Chemistry,
Department of Chemistry, University of Minnesota Twin Cities, Minneapolis, MN
2001-2002 M.S., Org anic Chemistry,
Department of Chemistry, University of Minnesota Duluth, Duluth, MN
1999-2001 M.S., Material Science,
Department of Material Science, Moscow State University, Moscow, Russia
1995-1999 B.S., Material Science,
Department of Material Science, Moscow State University, Moscow, Russia
Professional Career
2008 - present, Postdoctoral Research Associate, Los Alamos National Laboratory
Current Research
Preparation and characterization of nanocrystalline quantum dots.
Design and preparation of Photocatalytic assemblies.
Investigation of the surface chemistry of nanocrystals.
Selected publications
Sykora, M., Koposov, A. Y., McGuire, J., Schulze, R. K., Tretiak, O., Pietryga, J. M., Klimov, V. I. "Effect of Air Exposure on Surface Properties, Electronic Structure and Carrier Relaxation in PbSeNanocrystals", /ACS Nano, /*2010*, /4(4)/, 2021
Nemykin V. N., Koposov, A. Y., Netzel B. C., Yusubov M. S., Zhdankin V. V. "Self-assembly of hydroxy(phenyl)iodonium ions in acidic aqueous solution: preparation and X-ray crystal structure of oligomeric phenyliodine(III) sulfates", /Inorg Chem, /*2009*, /48(11)/, 490//
Koposov, A. Y.; Netzel, B. C.; Yusubov, M. S.; Nemykin, V. N.; Nazarenko, A. Y.; Zhdankin, V. V. "Preparation and Structure of Oligomeric Iodosylbenzene Sulfate (PhIO)3·SO3: Stable and Water-Soluble Analog of Iodosylbenzene" /Europ. J. Org. Chem./ *2007*,/27/, 4475.
Nemykin, V. N.; Barrett, C. D.; Hadt, R. G.; Subbotin, R. I.; Maximov, A. Y.; Polshin, E. V.; Koposov, A. Y. "Mixed-valence states formation in conformationally flexible metal-free 5,10,15,20-tetraferrocenylporphyrin and 5,10-bisferrocenyl-15,20-bisphenylporphyrin." /Dalton// Trans./ *2007*, /31/, 3378.
Nemykin, V. N., Maximov, A. Y., *Koposov, A. Y. *"Mercury-Free Preparation, Characterization, and Molecular Structure of Tricyanovinylferrocene Using an Unusual Reaction between Ferrocene and Tetracyanoethylene." /Organometallics/, *2007*, /26(13)/, 3138.
Koposov, A. Y., Nemykin, V. N., Zhdankin, V. V., "Intra- and intermolecular interactions in the solid state structure of 2-iodylbenzenesulfonamides: a heptacoordinated organic iodine(v) compound", /New J. of Chem./, *2005*, /29(8)/, 998.
Koposov, A. Y., Boyarskikh, V. V., Zhdankin, V. V., "Amino acid-derived iodobenzene dicarboxylates: Reagents for oxidative conversion of alkenes to amino acid esters", /Org. Lett./ *2004*, /6(20)/, 3613.
Zhdankin, V. V., Litvinov, D. N., Koposov, A. Y., Luu. T., Ferguson, M. J., McDonald, R., Tykwinski, R.R., "Preparation and structure of 2-Iodoxybenzoate esters: Soluble and stable periodinane oxidizing reagents", /Chem. Comm. /*2004*, /1/, 103.
August 2010