Young-Shin Park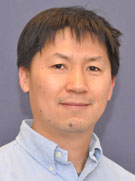 Phone: 505-665-0859
Email: ypark@lanl.gov
Education
2002-2009 : Ph.D. Department of Physics, University of Oregon
Professional Career
2009 - present : Postdoctoral Research Associate, Los Alamos National Laboratory
Current Research
I'm currently working on single nanocrystal spectroscopic study of semiconductor nanocrystal quantum dots and hybrid structures, in which anocrystals are coupled with metallic nanoparticles.
Previous research
My previous researches involved opto-mechanical cooling of micro-resonator and cavity-QED with NV centers in diamond nanocrystals. For both experiments, slight deformed silica microsphere resonators were used.
Selected publications
Young-Shin Park, et. al., "Near-Unity Quantum Yields of Biexciton Emission from CdSe/CdS Nanocrystals Measured Using Single-Particle Spectroscopy", Phys. Rev. Lett. 106, 187401 (2011).
Young-Shin Park and Hailin Wang, "Resolved-sideband and cryogenic cooling of an optomechanical resonator "Nature Phys. 5, 489 (2009).
Young-Shin Park, Andrew Cook and Hailin Wang, "Cavity QED with diamond nanocrystals and silica microspheres "Nano. Lett. 6, 2075 (2006).
August 2010