Don Werder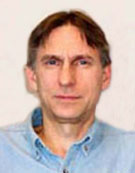 Phone: 505-667-0022
Email: dwerder@lanl.gov
Professional Career
2003 - present: Technical Staff Member, Los Alamos National Laboratory, Los Alamos, NM
1985 - 2002: Member of Technical Staff, Bell Laboratories, Murray Hill, NJ
1981 - 1985: Senior Technical Associate, Bell Laboratories, Murray Hill, NJ
Education
1985: MS, Materials Science, Stevens Institute of Technology, Hoboken, NJ
1981: BS, Chemical Physics, Rutgers University, New Brunswick, NJ
Current Research
Characterization of phase, structure and composition of nanoscale materials by transmission electron microscopy and scanning transmission electron  microscopy.
Fabrication and characterization of nanoscale-based devices.
Thin-film deposition by thermal evaporation and RF magnetron sputtering.
Previous Research
Photolithography, metrology and molecular beam epitaxy of InP-based, high-speed, bipolar transistors.
Transmission electron microscopy of high-temperature superconductors.
Studies of oxygen vacancy ordering in YBaCuO.
Transmission electron microscopy studies in the development of new bonding metals for flip-chip technologies. Studies of meta-stable alloy phases.
Transmission electron microscopy studies for the development alternative gate oxides.
Scanning transmission electron microscopy/molecular beam epitaxy in-situ studies of strained layer epitaxy.
Transmission electron microscopy studies of AlGaAs/GaAs quantum wells fabricated by ion-implantation and diffusion.
Reflection electron microscopy studies of disorder in the contact resistance of oxidized Ni and Ni-Sb films.
Development of plasma etching process of GaAs-based lasers produced by proton bombardment.
August 2010